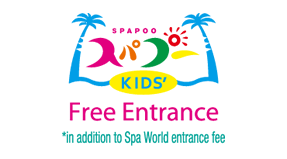 Only elementary-aged children and younger, along with their guardians, are allowed in the kids area. Customers older than that may not enter by themselves.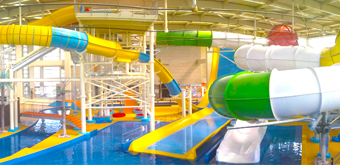 A huge amusement pool full of fun aquatic playground equipment, such as our formidable waterslides.
The Two Big Slides
Panic Tornado

Thrill and excitement that runs while rotating the darkness of 150 m in full speed at high speed.
In the sphere, a severe shake of height difference MAX 2 m attacks you.
Please enjoy the experiences of impact that you can experience with spa pu only.

* This attraction is for 2 to 3 people only. Also, there may be a case that we ask you to change the number due to safety reason.
* Weight are limited to 180kg or under in total when group of 2 to 3 people are to ride.
* Height must be higher than 115cm.
* Camera, mobile phones, glasses, accessories, tube, shoes, towels or likes must be put off.
* The instruction of our stuff must be respected and followed. Otherwise, we cannot take any responsibility for any injuries or damages to swimwear.

500 JPY
*1 day pass 1,500 JPY

zoku-zokuzoku burn led

Popular! That "Pinnacle Burn" got renewed with LEDs
When passing through the illusion world where the light is colored, a huge slope emerges! It is! Slide and climb and fall down! Is it?
We will deliver a thrill of 70 degrees inclination and a touching experience.

*Limited to those of height 115 cm or more.
Weight difference is limited to 40 Kg only when using it with two people.

500 JPY
*1 day pass 1,500 JPY

Panoramic Family Bath

Round Pool
Bath with a view
(onsen)
A Jacuzzi-style bath that both men and women can enjoy in their swimming suits while looking out over Tsuutenkaku.
Spapoo Kids & Amusement Pool & Bade Zone
Swimsuit Rental 600yen (Men size M to 4L, Women size 7 to 17, Children size 90cm to 150cm)
Tube Rental 750yen
All Free pass 1,500yen (Unlimited rides on DEATH LOOP And UzuUzu Bam And ZokuZoku Bam)
Free pass 1,000yen (Unlimited rides on UzuUzu Bam And ZokuZoku Bam)